District Announcements
District Announcements
Announcements pertinent to the District are posted here. Submit additional announcements with complete contact information to
admin@metropolitanbaptistdistrict.org
for review and posting. All announcements are subject to an approval process.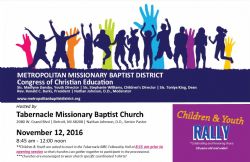 As we prepare for the Youth Rally, which will be held on Saturday, November 12, 2016. we want to ensure that the information regarding the Rehearsals in preparation for the Youth Rally receive the widest dissemination. We will have a Lecturer, and when we return for the Reassembly, the Youth will display their gifts. This year we will have a Praise Team, Choir, Dance and Sign Ministry represented.

Please help you your young people select ONE Ministry to participate in, and attend the rehearsals for that Ministry based on the attached Rehearsal outline. If you need directions to a particular church, their phone numbers are listed on the attachment.