Women's Auxiliary
Rev. Pecola Bell, President

"Strengthening Churches and
Advancing the Kingdom
through Partnership"
Hebrews 10:24-25
The Metropolitan District Women's Auxiliary is primarily responsible for organized women's work through the churches.
---
Join us for the 2018 Life Skills Workshop April 3-4, 2018. Deadline to Register March 23, 2018. Download Registration forms here.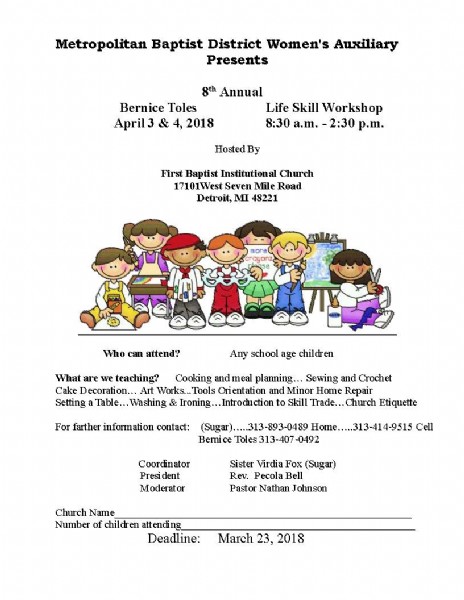 ---
Welcome to the Metropolitan Missionary District Women's Auxiliaries, we are happy you have chosen to fellowship, worship, work and serve as one with this body of believers in Christ.
The Women's Council was organized March 21, 1921 with the objections to promote the gospel of Jesus Christ and advance missionary work, Christian education, and to help encourage in the enlistment of young people in the Christian work locally and in the foreign countries.
In 2009 prison ministry was added.
The Council meeting date is the second Thursday of each month at 9:30 a.m. except; when there is a fifth Saturday in the seasons, in that month we meet on the fifth Saturday at 9:30 a.m. Every other month we meet for prayer from 8:30 - 9: a.m. Most meetings are over at 12:30 p.m. and lunch is served.
The Missionary department annual fee is: $150.00 per year, September - July.
You may pay this all at one time or pay some each month until you pay the full amount.
There are five departments that serve under the Women's Auxiliary. They are:
The Young People

The Deaconess

The Nurses

Christian Women United

Business and Professional Women
AGAIN WELCOME! We are glad to have you. We also welcome anything you can do to help this District to be better.
A Year at a Glance
January

State Board Meeting in

Saginaw

Mid-Winter Board Meeting in

Nashville

February

Todd Phillip Boys Home Rally

Negro History Month

March

Second Inspirational Meeting

World Day of Prayer

Donation to the Shelters of the Homeless

April

Ministries Leaders Annual Day

May

State Inspirational Meeting and

Vice President Breakfast

June

District Annual Day at Carver Camp and

Annual Council Day

July

Annual District Session

August

Annual Council Planning Meeting at Carver Camp and State Annual Session

September
Annual National Baptist Convention and starting New Year for District Council Meeting
October
Council Meeting
November

Baptist Day of Prayer

First Inspirational meeting

Caver Camp Rally

December

Annual Clothes Drive for the Needy
---
Click here to visit the District Calendar for more information on specific meeting locations.
Click here to learn more About Our District Leadership and Officers.