District Announcements
District Announcements
Young People's Department Hosts Virtual Third Sunday Inspirational Meeting
Visitor Comments (0)
Be the first to post a comment.
Discuss On Facebook
Thank you for submitting your registrations through the Givelify platform. To facilitate credit to the correct registration, please use the "MEMO" feature to identify the CHURCH NAME, PASTOR, and WHAT THE FUNDS ARE FOR. This will help us serve you. Again, thank you!
Pastor Richard R. White III,
Treasurer
The 2020 Annual Session and Fall Inspirational Meeting begin November 17, 2020. Thank you to all who pre-registered so that we could prepare for you. You have been sent an individual link via email. If you did not sign up you may still join by using the Zoom Meeting ID: 869 2456 2636 Password: 343233. You may also call in: (929) 205-6099. Let's celebrate what God is yet doing through the Metropolitan Missionary Baptist District!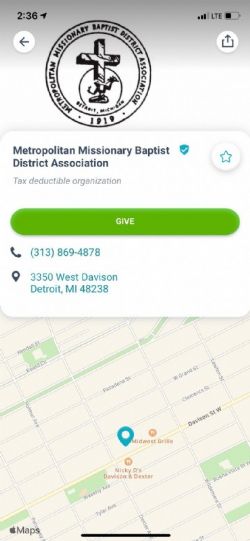 Find the Metropolitan District on Givelify. Using Givelify is the preferred and most direct way to submit your financial registration and donations.