District Announcements
District Announcements
Metropolitan Laymen support the Wolverine State Laymen and Laywoman Workshop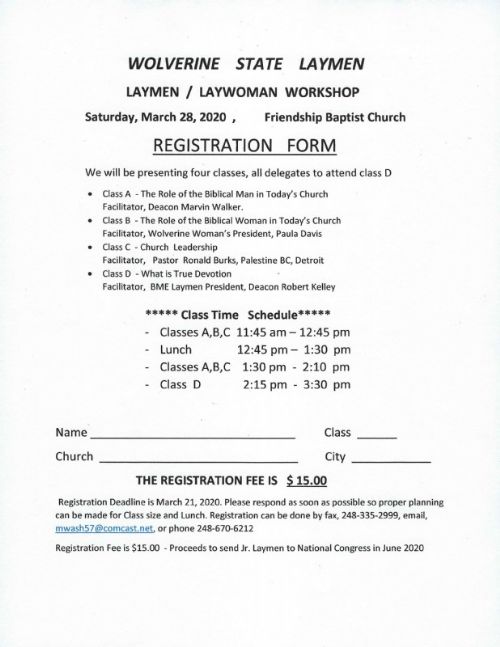 Visitor Comments (0)
Be the first to post a comment.
Discuss On Facebook
Due to the executive order from our Governor, the Spring Inspirational Meeting has been postponed. Moderator Johnson and the Executive Team is praying for you and your families. Stay safe. Stay faithful.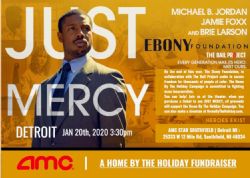 January 20, 2020 - 3:30pm - AMC Star Theater Southfield - JUST MERCY MOVIE
The Metropolitan Missionary Baptist District Association under the leadership of Pastor Nathan Johnson, Moderator, supports and encourages District Churches and Members to support the Ebony Foundation's Bail Project. You may do so by purchasing your ticket at the AMC Star Southfield on January 20, 2020 for the 3:30pm showing of Just Mercy.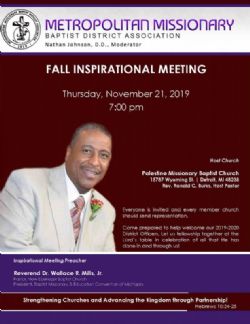 Join the Metropolitan Missionary Baptist District Association in celebrating their Fall Inspirational Meeting on November 21, 2019 at 7:00pm at the Palestine Missionary Baptist Church. Pastors are encouraged to wear their white robes for the observance of the Lord's Supper.