District Announcements
District Announcements
MMBDA Supports the Ebony Foundation's Bail Project
Visitor Comments (0)
Be the first to post a comment.
Discuss On Facebook
Due to the executive order from our Governor, the Spring Inspirational Meeting has been postponed. Moderator Johnson and the Executive Team is praying for you and your families. Stay safe. Stay faithful.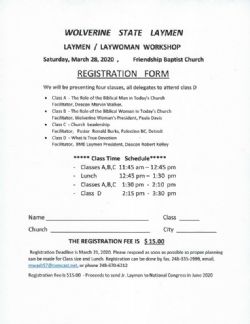 On Saturday, March 28, 2020 at 11:30am the Wolverine State Laymen present a "Laymen and Laywoman Workshop" to be held by the Friendship Baptist Church in Pontiac, MI. Proceeds will be used to send Junior Laymen to the National Baptist Congress.

Topics will include the Role of the Biblical Man in the Church; Role of the Biblical Woman in Today's Church; Church Leadership; and What is True Devotion?

Registration Deadline is March 21, 2020. Please respond as soon as possible so proper planning can be made for Class size and Lunch. Registration can be done by fax, 248-335-2999, email, mwash57@comcast.net, or phone 248-670-6212. Registration fee is $15.00.

Contact President Evans Holman or Bro. Michael Washington for more information.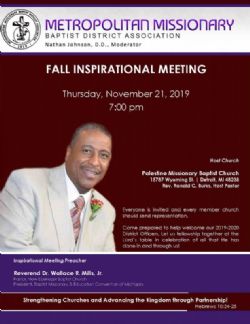 Join the Metropolitan Missionary Baptist District Association in celebrating their Fall Inspirational Meeting on November 21, 2019 at 7:00pm at the Palestine Missionary Baptist Church. Pastors are encouraged to wear their white robes for the observance of the Lord's Supper.