Member Church Announcements
---
News & Announcements from Member Churches
New Hope Baptist Church (Southfield) Hosts Certificate of Progress Program Information Workshop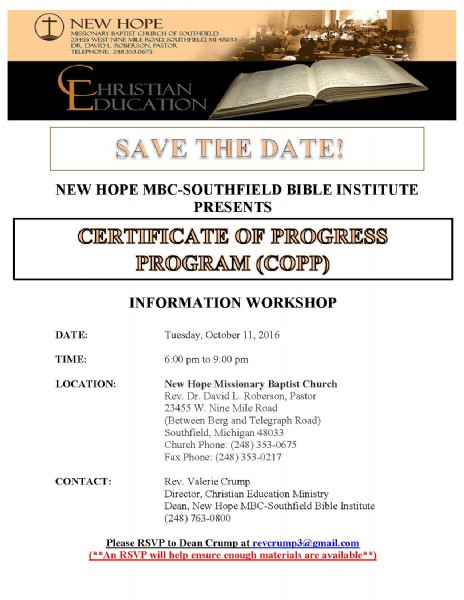 Visitor Comments (0)
Be the first to post a comment.
Discuss On Facebook
Come celebrate with Pastor Bernard Byles and Sis. Sharon Byles in their Pastoral Anniversary. Theme: Honoring Pastor Byles as a Servant Leader of God.
Unity Baptist Church seeks CPA and Bookkeeping Services. Job Summary: Responsible for preparing and analyzing financial transactions, managing accounts payable and receivable, reconciling bank statement and completing annual tax forms to ensure 501(c)3 reporting compliance. All candidates must submit resumes by March 7, 2018.
PLEASE NOTE UPDATE: Viewing will be Thursday, February 22, 2018 at Andrews Funeral Home from 2-8pm. Celebration will be Friday, February 23, 2018 at Christian Fellowship of Love Baptist Church from 6-9pm. The Homegoing will be Saturday, February 24, 2018 beginning at 11:00 am.